The Royal Wedding of Prince Harry and Meghan Markle is still being talked about in the Qube offices by many of our colleagues and our customers! Not only did the whole day look stunning, it was amazing to see so many different cultures celebrating love. When Kate and William got married in 2011, the Duchess of Cambridge rocked the wedding industry when she brought green trees into Westminster Abbey. Similarly Pippa Middleton also started the still popular trend of incorporating Blossom trees into her wedding décor, and here at Qube we can't wait to see what trends will emerge from Harry and Meghan's wedding.
Creating Wedding Decor with a Meaning
Throughout the wedding there was a great amount of symbolism and sentiment that was evident mostly through the floral arrangements. Meghan's was a vision of absolute perfection, wearing a simple yet elegant A-line dress with three-quarter length sleeves. It is evident that Meghan's designer, Claire Waight Keller for Givenchy, ensured that the dress was in keeping with her personal style – modern, fresh and graceful. Symbolism was strong throughout Meghan and Harry's Wedding starting with Meghan's exquisite 5m long veil. Did you know that the veil was embroidered with the California Poppy, which is Meghan's place of birth, Wintersweet flowers which grows in the grounds of Kensington Palace, and every flower of all the countries in the Commonwealth? The veil was undoubtedly beautiful, but the addition of the embroidered flowers highlights the things that are important to both her and Harry.
Floral symbolism was also worked into Meghan's floral arrangements – Philippa Craddock designed a petite, hand-tied sophisticated bouquet for Meghan. The bunch compromised of delightful garden blooms, forget me-nots, lily of the valley, sweet peas, jasmine, astilbe, astrantia and myrtle. Princess Diana's favourite flower was the forget me-not which also symbolises 'true love', which in our opinion is a lovely addition to the bouquet. Prince Harry even picked flowers from the private garden at Kensington Palace to add to her bouquet. Lastly, in keeping with tradition, myrtle was significant in the hand-tied posy as this was used in the Queen's Wedding bouquet in 1947 and was also present in Kate's bridal bouquet.
The wedding industry is predicted to see a growing trend for understated, small bouquets with specialist flowers that hold personal meaning to the bride, groom, and their family. Although there has been a trend for larger bouquets, this year brides are more likely to choose a bouquet that means something to them and instead opting for something smaller and with more sentiment behind it. If you want to sit down with our team and discuss a floral bouquet that incorporates everything special to you, see what Qube can do at our
specialised florist service
.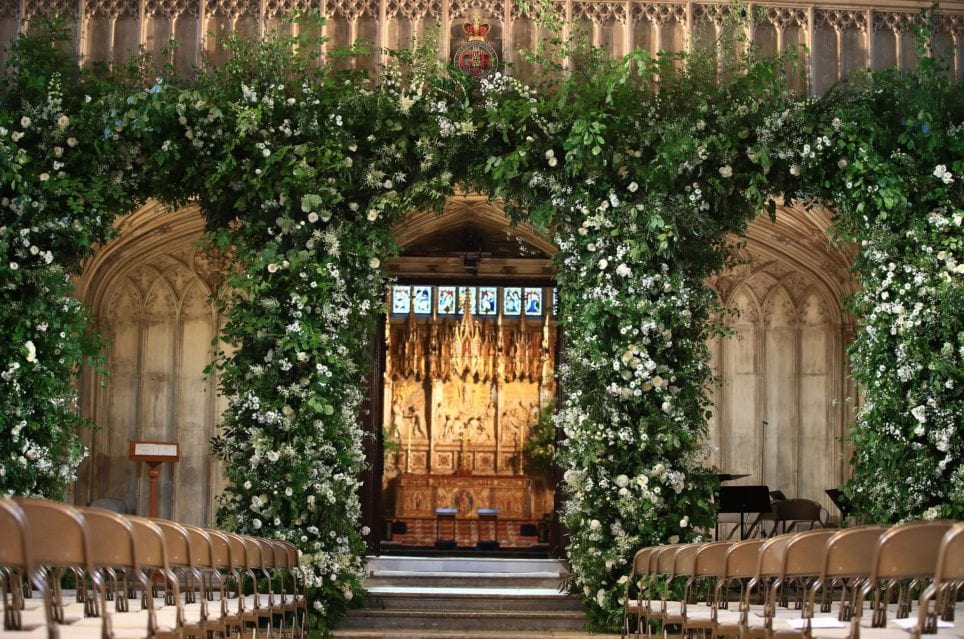 Decor Inspiration from Royal Weddings
As specialists in wedding planning, the team at Qube drawn to the incredible floral décor that adored St George's Chapel. With green being the Pantone colour of the year in 2017, we can only suspect it is going to make an even bigger splash this year from Meghan's explosion of wild garden floral arches and abundance of foliage.
Move over flower walls, hello foliage walls! We are undeniably loving bringing the outside in with tons of fresh flowers and greenery. Take a look at how Qube showcased our take on greenery at weddings.
Get in touch with Qube Events today
The Royal Wedding will certainly be one to remember forever and we cannot wait to create some sensational floral installations and incorporate more greenery into our future weddings. If you would like to get in touch with Qube to discuss or get advice on your upcoming nuptials then call us on 0845 463 4008  today to speak to an expert event planner! For all your wedding planner needs, Qube Events has it covered!
Enlist help from one of the most innovative event management companies.